The Costumes

Click here to see pictures of me in the dress!

Here are my lovely wedding shoes - although mine are in white so have no fear!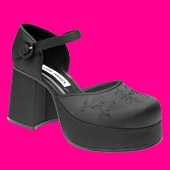 Here is the bridesmaids dress we chose. It is silk chiffon by Watters and Watters and will be in amethyst (deep purple). Click here to see the dress on a real person - Trang graciously agreed to model the dress. The dress is so flattering and pretty in person, I just didn't think this catalog picture did it justice!