APRIL 8, 2000: We Celebrate

The big day is finally here!
Getting Ready
Trang (my MOH) and I woke up at about 7 and it looked kind of dreary out. She was a great MOH and kept reassuring me the fog would lift and it would be beautiful. And sure enough it was! By the time we got to the hair salon at 8:30 it was bright and sunny - can not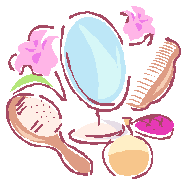 even tell you how relieved I was!
All the ladies staggered into the salon between 8:30 and 9 - there were 9 of us (me, the 5 Bridesmaids, two moms and my grandmother) to get hair and makeup done so it was quite a morning. Pam and Hang brought two "Boxes of Joe" and some bagels, OJ and champagne for mimosas - so we were quite happy running around in our curlers. And they really did an amazing job on us - the ladies looked like movie stars and the moms and grandmother very chic. And me - well despite having scratched my eyelid with my engagement ring two night before - I guess it wasn't half bad! I loved the way she did my hair in the back but it was mostly covered by the veil.
Things did get tense at the end because we were falling hugely behind schedule so they finished me, Trang, mom and Bonny and we left to start getting ready and the other ladies were to follow. Only one small problem - I had driven over and there was no way I could drive back with my chapel length veil! Bonny was helping me with it and it was still draped over the hanger which made it easier, but still a pain - not to mention the winds had really picked up by then! So we blew into the car and Trang drove - not a big deal except she was nervous and hadn't driven stick in awhile, then my rearview mirror snapped off in her hand when she adjusted it. I figured it would be our one thing that went wrong and told her to drive on - so we lurched (just kidding Trang!) our way back to the B&B!
That's when things got crazy. We arrived there at 12:30 - and so did the photographer, videographer and florist. The PG and VG were not supposed to arrive until 12:45 - leave it to me to hire prompt people! So in a flurry of activity we went upstairs to do the preliminary getting ready before letting the PG and VG in. The florist brought the bouquets upstairs and they were gorgeous! She did such an awesome job on all the arrangements. Mine was purple with anemones, lilacs, lisanthias, roses, tulips, and some greens for contrast, hand tied with gold organza ribbon. Can't wait to see photos of it against the big white dress! And the ladies were similar but smaller and with peach and cream tones worked in as well.
So all the ladies got dressed first which was hilarious due to some stick on pasty bra and body slimmer issues - talk about finding out who your true friends are! And then the flower girl, ring bearer and my dad arrived - more chaos. And then once everyone else was ready it was my turn and we got the big dress on without too much fuss. My ring bearer took one look at me and said "Wow! That's a lot of white!" Hmmm....Then we spent the next hour or so taking pictures and then promptly at 2:30 the limo arrived for the ladies and FG and RB, and a few minutes later the 1937 Packard we rented arrived for my parents and I. The ladies had to go out one at a time because the wind was so bad. If you had to wait for the person in front of you to climb in the limo, it would have been a hair disaster. So it took awhile. And it took my mom, d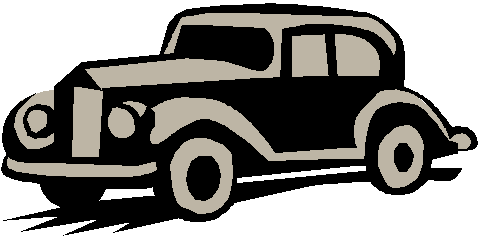 ad and our car driver to help me carry my train and hold my veil on as we struggled to our car!
Going to the Chapel
And we were off and the driver popped in "Going to the Chapel" on the tape. We just had a great ride. I think my mother especially loved it! The car attracted a lot of attention in town and she was waving at everyone yelling that we're going to a wedding! So we arrive up at Tufts at 2:55. Perfect. Except I see my friend Chris standing at the top of the hill. So we pull over and I roll down the window and see what's up. He says he's waiting for the shuttles (we hired 2 shuttles to take the hotel guests from the Hyatt to the chapel). That's when I started to stress. Where were the shuttles? It's a 30 minute trip max and they should have left the Hyatt by 2:15. My worst fear - no guests! So we pull around in front of the chapel, where I am now a cursing bride reaching for my cell phone to call the Hyatt to see what's up. Luckily someone runs over and says that everyone is there - and they are just waiting for me! Phew.
So, unfortunately the chapel is on top of a hill. The wind was whipping through there like crazy. So once again my Dad and the driver held me together as we ran the couple yards to the chapel door. (As we run by I notice Mike and the guys had painted the cannon to say Lisa and Mike 4.8.00 - very sweet, except I later found out that the other side that didn't face the chapel said "Yes Dear!") And there we are, in the back of the chapel. A few minutes to fix ourselves and I hear the Ave Maria and my grandmother and the mothers are being seated. I had obstructed view so missed it all, but I guess everyone made it down ok - waiting for the video! Then my Dad kept trying to go, but I kept telling him we had to wait for the music to change - and there it was - Wagner's Bridal Chorus. And down the aisle we went - I really don't remember walking, just seeing some individual faces along the sides, lots of smiles, and then being at the top, my dad lifting the veil, shaking Mike's hand, the kiss, and then Michael and I are holding hands up at the altar! We were just all smiles, though he claims I was breaking his hand I was squeezing it so hard!
The ceremony was beautiful - Father and the readers and the musicians did a fabulous job. Two glitches - the photographer knocked over the container of holy water so Father had nothing to bless the rings with (though he assured us they were still blessed) and so he sent the photographer to get some more water! So no pictures of the ring exchange either... And then of course, when the beautiful moms came up for the Unity candle, wouldn't you know it the tapers would not light!! I had meant to light them before hand to prevent just this problem, but finally we got them going and that was neat, I am very glad we did that part. But literally this was the shortest Catholic ceremony ever. It flew! And next thing I knew we were recessing!
We left the chapel but came back in a side door to wait in the office until the chapel emptied and then we were going to make our grand exit down the chapel stairs. Instead of rice/bubbles we tied two of those little gold and silver bells together with ribbon and attached a card with an excerpt of Edgar Allen Poe's "Bells" and as we made our exit the guests all rang the little bells and the chapel bells were chiming - it was better than I had even imagined - those chapel bells were so ethereal and the little tiny bells were such a contrast! And I have heard that there are some great pictures from this with my veil standing straight up in the air because of the wind! And then after the exit, the wedding party and some family regrouped in the chapel for (endless) pictures and all the other guests were off to the Hyatt for cocktail hour :-)
The Reception
Michael and I arrived later than planned at the Hyatt because we stayed doing some formal photos at the chapel, which ran a little late and then of course - we were stuck in traffic in Harvard Square! We didn't mind the traffic though. Getting a classic car for just the two of us was one of the best decidions we made for the wedding. Not only was the car so cool, and the driver (Don) so incredibly helpful - but it gave us some needed down time and together time before the onslaught of the reception. We really needed this time to relax together and let the fact that we were married sink in! So despite the traffic, the ride was great. It was so fun to see everyone stop and stare at the car, and then point when they saw a bride and groom inside - we got lots of waves and thumbs ups along the way! Plus we got to chat a little, and I bridezilla, quizzed Michael on how everything went for him during the morning - did the vendors arrive on time, what was the chapel like when he got there, did he see the shuttles (I was so afraid they wouldn't be nice ones!), etc...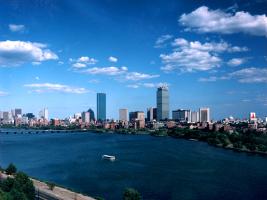 Finally we make the turn onto Memorial Drive and the view is as beautiful as I had hoped. We had been driving back and forth to the Hyatt a lot recently and it was always so beautiful and I was always so worried it would be rainy and dreary on our wedding. To see it just as beautiful as always just really made me so happy. Except that the wind was virtually rocking the car - a sure sign that there was no way we could do outside photos here either. Oh well. As we pull into the Hyatt driveway I see Kristin our coordinator waiting for us with a walkie talkie. I panicked. It never entered my mind she was just there to greet us. I was convinced the harpist or the DJ hadn't shown - the DJ was the last critical element of the day that needed to fall into place! But no, everything was fine, she really was there to just greet us! Though I think one of the first words out of my mouth was "Is the DJ here?" And of course she said yes and he was all set up. When e drove up we saw the cocktail hour going on on the balcony, though unfortunately they had had to put up some fake tent walls because of the wind. We didn't plan on going to the cocktail hour so we could make our "grand entrance" at the reception, so we went to a smaller room downstairs where the Hyatt had set up a small bar and appetizer station just for the bridal party. This was great. I was starved and thirsty - and so incredibly tired of having my picture taken!!!
I went immediately to the food (oh such a gracious bride!) and Michael asked Kristin to bring Victor from the cocktail hour so we could borrow some money to pay Don as we had gone over our car reservation time - but again it was worth it and I highly recommend Pedersen Livery to all Boston brides reading this! Then not only Victor but the whole wedding party and the parents came down and we all hung out for a bit relaxing, having champagne and more food! Even Mark was there after he and Liron WALKED all the way from the Chapel to the Hyatt! We joked that they actually got blown there, the wind was that bad! And then Lauren gave us a little show, singing "Be our Guest", Matthew was playing gameboy and everyone else was pretty much eating and drinking! Though of course you know I quizzed everyone on the cocktail party upstairs "Was everyone having fun, Was the Harpist there? How was she?" Then it was time to wind down, and Kristin let us know they were starting to herd the guests room the cocktail hour to the elevators and on to the reception. So all the ladies rush to the mirror behind the bar for a lipstick check and then the fun begins - "Bustling Bustin" (as Mike and Trang's sister so delicately put it!) And much credit to Pam, Hang, and Trang who I dragged to Yolanda's to learn the bustle because they did it perfectly! It looked very confusing to me, so I was very relieved! We got some great bustling pictures so look for them in our Photopoint album under Cocktail Hour.
Ok, the bustle done, fresh lipstick and powder - we were all set! We were then all herded to the elevators ourselves and up we went! We lined up outside in the hallway and I wish I had a picture of what the room looked like from this point of view - the back wall is all windows so we could see in and it was so neat to see everyone seated and waiting - this was really happening!! Unfortunately I think we may have been a little too loud in the hallway so everyone knew we were coming...I don't remember what we were all laughing about but...And of course there were last minute instructions of where to go, what to do...And then the music started - The Imperial March theme from Star Wars ;-) It was neat because we could watch everyone go in through the windows - first Lauren and Matthew, the parents and all the wedding party. And then us! We had thought the music would change to the "Throne Room" from Star Wars but it didn't, and then we were announced - "Lisa and Michael Rothenberg!" That was an amazing feeling to walk in and see everyone, and then down the stairs we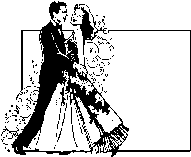 went to the dance floor to do our first dance. Could we pull this off? Our dance lesson had really been a catastrophe - we were pretty bad - or so Victor told us! But we heard the music start, "At Last" by Etta James, so we slowly walked across the floor and assumed our box position and off we went! It was magical. Michael led, I didn't try to lead we even pulled off the dip! The wedding party was standing in front of the wall of windows looking beautiful and they had the Boston skyline behind them and then they and us were reflected in the mirrors on the other walls - it was great to be able to see ourselves dancing! And then when we looked up we could see all the guests hanging over the walls above the dance floor. It was an amazing moment and it sounds cheesy but you could actually feel the love and happiness in the room at that moment.
Dance over, we go upstairs to our little sweetheart table and the wedding party found their seats at their respective tables. And then my Dad gave a welcome, a blessing a toast. It was amazingly done and I can't wait to hear it again on the videotape! I was shocked to learn he had written it the day before while lounging at the Hyatt pool! But it was very sweet but I did get a bit nervous when he said he had a surprise for us...but he invited my mom and Mike's parents to come up and join him and remarked on the coincidence that all 4 of them had been married for 30 years and worked that into a little analogy that marriage is not a sprint, its a marathon, and much more I can't remember - just that it was great! And then Victor did his Best Man's speech...much of which I can't remember specifically (maybe he has a copy he wants to send me?) but the one part that sticks out is that he said I have a sharp tongue! Hmmph! But really all the speeches/toasts were excellent!
And then what...I think we got up to begin the night of schmoozing! First we went to my parents table and then on to Michael's parents table, and then returned to our table for the 1st course - Wild Mushroom Ravioli with cream sauce! We ate a bit of that and were of to round 2 of the schmooz - we moved to the other side of the hall (it was shaped like a big V with our table at the point and guest tables at both sides of the V and the dance floor in the hollow if that makes sense?) This side of the room was by the bar and definitely housed the rowdier crowd! We started there with the table with my brothers and cousins and had barely finished when our DJ, Bruce, came over to tell us it was time for the Father/daughter dance. We decided to have this dance on the upper level by the sweetheart table so more people could see without having to get out of their seats as with the first dance. It worked out pretty well. We danced to Nanci Griffith's version of "Turn Around" - I love that song and was very surprised that I didn't lose it! But I did hear that my mom and Aunt Sharry were both crying!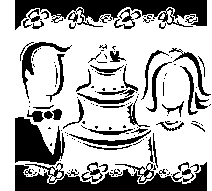 After the dance I think it was the salad course, but we were already off schmoozing with friends of Mike's parents at Table 9, and then we had to cut our visit at Table 10 short to do the cake cutting! We were not making very good progress.... For the cake cutting we played "Ice Cream" by Sarah MacLanahan, and it was a lot of fun! I should say first though that the cake came out beautifully! Konditor Meister did a fabulous job with it and then the Hyatt and Jessica our florist did a fabulous job displaying it - I hated to cut it! But cut it we did - and then we fed some to each other - no cake in the face as Michael had been heavily warned, though he did put icing on my nose!
Somehow this timeline isn't flowing properly in my head...I think after the cake cutting we went back to our table to eat our salad, but by that time everyone else was already on the intermezzo sorbet. Where did we go next? I think maybe the dance floor - even though it was still dinner you can't keep those Bustin's off the dance floor! When we returned to schmoozing the main course was already being served so unfortunately we interrupted a few dinners! And never got to eat the main course ourselves! But it was worth it - visiting each table was o much fun, and I think we got to talk to almost everyone - though it took awhile to get back over to the rowdy side so that was a little less formal - but I think we saw everyone on the dance floor at least! Michael and his Mom had their Mother/Son Dance to John Denver's "Sunshine on my Shoulder" and we have some great photos of that!
Past this, its all one big blur of fun - from dancing, to dance trains, to just laughing and talking with everyone! At some point the staff cut the cake and set up this wonderful cake, coffee, and tea display overlooking the dance floor, facing the windows with a spectacular view of Boston. I did manage to eat some cake which was yummy! And then before we knew it, it was getting late, almost the end :-( And time for the Babushka Dance! I was very nervous on how this would go off...pretty much it is a Polish tradition where the bride's veil is removed and replaced by a lace babushka to symbolize her new role as wife. The maid of honor then sits with the veil in her lap and catches the money that friends and family pay to have one last dance with the bride. After the dancing everyone forms a circle around the bride to prevent the groom from breaking through - but hopefully he eventually does and they run off to start their new life together.
And it went perfectly and is one of my happiest memories from the reception. My mom, grandmother and Trang helped me off with my veil, and then my mom tied the babushka around my neck - the one she wore at her wedding 30 years before! And then the polka music started and we were off! First my mom and I, then my dad cut in, then my grandmother, my grandfather, my brothers, uncles, aunts, cousins, the groomsmen, friends, the bridesmaids. It just kept going and I really didn't want it to end it was such a great time! But then the line tapered out and there I was - alone on the dance floor! So the circle quickly tightened as Michael came down the stairs to try to "rescue" me. The chain doubled up at points and there was a lot of movement, with my Uncle Bud leading the charge against Michael. But little did I know that Michael had told his fiend Doug that "eventually you just let me in" so a hole was conveniently opened up and I was rescued by my groom and we were "off!" Not really because we did stay to say goodbye to everyone!
The party appears to have gone on without us, with some guests going on to bars, some wrecking havoc in the Hyatt....but we were off to the bridal suite, which I must say was bigger than my apartment! And what did we find there? A gorgeous plate of chocolate and a bucket of champagne form the Hyatt AFTER we waded through a fence of toilet paper to get in to the room! It seems Michael's friends had stopped by to do some decorating - and later I found out they also short-sheeted the bed! Thank you - hmmph!

[ APRIL 6 ] [ APRIL 7 ] [ APRIL 8 ] [ APRIL 9 ]
[ February 2000 ] [ March 2000 ] [ APRIL 2000 ] [ January 2000 ]